---
CiboWares Blog
Blog Categories
---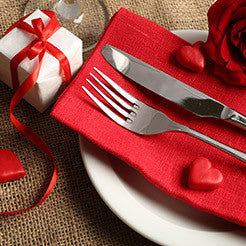 Serving Up Valentine's Day
Now that the New Year has passed, it's time for restaurants to focus on the first big holiday of the year - Valentine's Day. While it's billed as the most romantic day of the year, there's a lot of pressure for restaurants, bars and other food establishments to deliver great experiences to their customers. Depending on your place's atmosphere, working in a Valentine's Day theme can be even more challenging. That's why today we're going to offer ways for various businesses to set that perfect Valentine's Day mood. 


Atmosphere
There are many ways to create a romantic atmosphere. For bars, casual restaurants and high-end eateries alike, simply playing a love-themed soundtrack can set that Valentine's Day mood.
Even better, bring in a live band to play jazz or American standards. If there's room, try setting up a small dance floor for couples to enjoy all night long. If your restaurant typically has bright lighting, try dimming it down once the big night begins. Offset the change in lighting by placing candles at every table. 
Place Settings
Getting ready for Valentine's Day doesn't have to be difficult. Even a simple change in place settings can drastically change the mood of your establishment. Burgundy, red and white placemats are a perfect way to set the romantic vibe right from the start. Do the same for dinner napkins - for higher-end restaurants, go one step further by folding napkins into bands of the same color. If you run a bar, serve cocktails with red and white beverage napkins. 
Menu and Presentation
Successful menus are able to get creative and find unique twists on otherwise typical dishes. For Valentine's Day, play up the romantic vibe by creating couples-themed menu items. This can include multi-course specials where each dish is portioned out for two. Try renaming your cocktails just for the night.
Now that the menu place settings are ready, it's time to focus on the serving of the food. Complimentary champagne can help get the night off on the right foot. Have servers dress up a notch so customers know they're getting the special treatment. Bring out dishes on specialty tableware like palm leaf heart bowls to add a romantic touch.
Forget the Couple's Vibe
While romantic-themed nights are a great options for all types of food establishments, there's nothing wrong with targeting a different audience. Bars can take advantage of the singles crowd by hosting a happy hour for people to meet and mingle. Offering cocktail specials or hosting games are sure to have customers forget they're alone on Valentine's Day.

Casual restaurants can turn Valentine's Day into a family event. Balloons, streamers and other party-like decorations can help create a fun atmosphere for the kids. When it comes to the menu, try serving family-size meals that everyone can enjoy. 


There are many ways to get creative with Valentine's Day. If you're looking to create a romantic atmosphere, make sure to review everything from menu items to lighting. Taking advantage of other crowds like singles and families allows room to create fun, relaxed atmospheres. No matter the vibe, we at CiboWares have all the dining supplies you need to get this Valentine's Day done right! 
---
Interested? Shop these categories: