---
CiboWares Blog
Blog Categories
---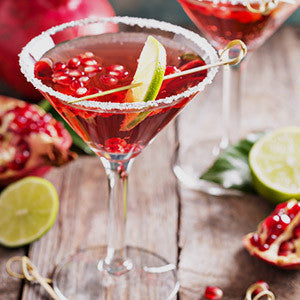 When it comes to running a food establishment, you understand that competition is fierce. Restaurants, bars and food trucks alike need to do what they can to differentiate their dishes from the rest. The same is true for drinks - even simple touches can draw appeal from your customers. Keep on reading to learn some tips on decorating your drinks.
Fruit and Fruit Peels

Including fruit in your drinks is a great way to add color and a sense of style. Lemons and limes go great with waters and soda. Olives are the essential garnish to martinis. Fruit peels can add a burst of flavor to classic cocktails like the Old Fashioned. Depending on the time of year, you can get creative and try topping off drinks with exotic fruits. Next time, try decorating drinks with avocados, blood oranges or star fruit.
While fruit slices can easily go on the lip of any glass, picks and skewers give you additional creativity for decorating your drinks. You can chop fruit into tiny squares or other shapes and slide them on for a quick yet attractive presentation. From a customer perspective, the drink looks more complete and fun.
Add a Touch of Class
Depending on your establishment, taking a more elegant route with drink decorations may be appropriate. Picks come in a variety of styles, many of which are perfect for classier atmospheres. Bamboo knot picks feature a looped design that "ties" any drink presentation together. Bamboo paddle picks, on the other hand, feature a flat top that proves that elegance doesn't have to elaborate.
Simple elegance isn't limited to products made from eco-friendly materials. Black and clear prism picks, made from premium-quality plastic, offer a straightforward design for any drink.
Having Some Fun

While we like to think of the last months of the year as the "holidays," there are specials days spread throughout the year. From Valentine's Day to the Fourth of July to Halloween, these days are great to show off your establishment's fun side and help get customers into the holiday spirit. Foil fireworks party picks are great for Memorial Day, Fourth of July or Labor Day. Available in black and red, arrow picks can be used to "strike" cocktails on Valentine's Day or Halloween. You can also take your establishment's fun side up a notch by celebrating non-traditional events. International Talk Like a Pirate Day, for example, is a great time to break out black sword picks.
Apart from holidays, picks and skewers can add fun to various events. Bamboo ball picks, for example, come in a variety of colors to spice up anything from juices to margaritas. For even more flare, you can go with foil pinwheel party picks or foil mega frills party picks.
Drink decorating is one of the easiest ways to distinguish your menu with customers. We at Cibowares provide a great selection of picks and skewers made from eco-friendly bamboo and splinter-free wood that go great with any cocktail. Our products come in various quantity sizes so your establishment is always stocked. When it comes to adding some style to your beverages, let us be your go-to supplier!
---
Interested? Shop these categories: