---
CiboWares Blog
Blog Categories
---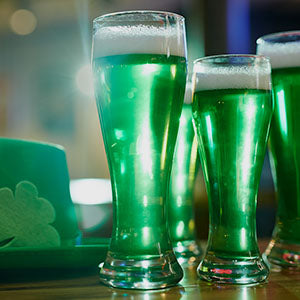 Add Some Fun to Your St. Patrick's Day Celebrations
Bring some Irish charm and feel to your establishment this St. Patrick's Day! From green napkins to disposable barware, CiboWares has all the products needed to make your celebrations a hit with customers!
Go Green!
No St. Patrick's Day celebration would be complete without green and white decorations!

Use green placemats, and our selection of green, hunter green, and white napkin bands to add some Irish charm to any table setting. Dinner and beverage napkins are also available in white and green to protect table and bar tops from leaks and spills, and to enhance the look of your St. Patrick's Day beverages and entrees.

Green arrow, bamboo, and sword picks are another great option to serve up colorful beverage garnishes, or enhance the look of corned beef sliders and soda bread.
Irish Beverages
No St. Patrick's Day celebration would be complete without a beer special! Serve up green beers with your favorite style of beer glasses - from tankards to traditional pub glasses, to green clover shakers. Take your pick! Tumblers are also essential to serve up Irish whiskeys, and don't forget to protect your surfaces with coasters.

Disposable barware is also available for use during events to help reduce cleanup time and stress on staff and organizers. Create a shooter or cocktail recipe for the occasion, and serve them up easily in disposable bomber shot cups and tumblers.
Food Specials
Adding some new Irish specials to your menu is another great way to celebrate. Serve up signature shepherd's pie with our selection of foil pans, and individual portions of shepherd's pie can be served up in Welsh rarebits to add some elegance and flair to dish presentation. You can also get creative with your existing menu by adding your own Irish twist, or featuring green colored ingredients.

Adding new specials and using CiboWares' selection of green products is the perfect way to bring some Irish charm to any establishment, so have some fun and get creative this St. Patrick's Day.
---
Interested? Shop these categories:
Napkins & Bands
Placemats
Picks & Skewers
Glasses
Disposable Barware
Coasters