---
CiboWares Blog
Blog Categories
---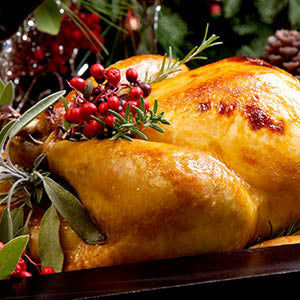 Christmas is a time of getting together with families and friends, and what better way to do that than to celebrate with delicious turkey and stuffing, casseroles, and sweet desserts? CiboWares has all the products needed to make any holiday dinner special or catered event a success. Keep reading to find out all the dishes and products that are guaranteed to satisfy guests and customers alike.
Delicious Casseroles
Serve up green bean, sweet potato, or spinach and mushroom casseroles as a delicious side dish - or a main! Oval welsh rarebits are ideal for serving up casseroles with style, and have convenient handles to ensure easy and safe handling and serving. Serving spoons are a great option for buffets or catering events that have larger dishes of casseroles to make serving a snap.
Stand Out Sides
No turkey dinner would be complete without delicious side dishes to enhance the meal. Creamy mashed potatoes, cheddar biscuits, and stuffing are all classic holiday side dishes that are must-haves at any Christmas dinner.

Prepare mashed potatoes with our potato ricers to reduce time and energy spent prepping potatoes, and scoop up mashed potatoes with ease with ergonomic handle spoons. 
The Main Event
Glazed hams, stuffed turkeys, beef tenderloins, and chicken are great entrees choices for any holiday dinner! Looking for some new and delicious turkey recipes? Try out brown sugar and mustard glazed, bacon roasted, salt and pepper grilled, or turkeys with fruit and nut stuffing to add some new flavors to a traditional and beloved dish.

Use high heat pan liners and high heat roasting bags to cook meat and keep it tasty and ready to serve! Able to protect pans from messy sauces and juices, they are perfect for reducing time spent during cleanup. Serve up main dishes with our selection of quality platters to give dishes some added style and flair! We have a variety of disposable and non-disposable tableware available to serve up classic turkey, stuffing, mashed potato dishes and more.


Gingerbread
From cupcakes, loaves and cookies to waffles and caramels, gingerbread is the ultimate holiday flavor. Serve up delicious gingerbread cupcakes with our selection of baking cups and bake up trays of delicious cookies with durable sheet pans.

Gingerbread waffles are a great option for Christmas brunches or breakfasts, and are guaranteed to look delicious when paired with our quality selection of plates. Available in a variety of styles and colors, our plates are durable enough to stand up to any dish. To portion out and serve waffle toppings and sauces like fruit, chocolate spreads or syrup, use small ramekins which will fit right on the plate.

Looking for a nice way to thank customers for another year of their patronage? Use gingerbread caramels to give customers a nice treat at the end of their meal. Serve them up in our selection of tasting cones to give table settings a fun, stylish and unique look.
Festive Beverages
No dinner would be complete without trendy and creative beverages! Serve up vodka and mocha cocktails with our selection of quality cocktail glasses to give them a stylish look. Featuring chocolate, vodka, espresso, and whipped cream, they are the perfect mix of dessert and cocktail to suit any dinner. Cranberry is another great holiday flavor! Serve up bourbon cranberry shrubs in our selection of tumbler glasses to bring a great holiday flavor to cocktails.

Eggnog is a holiday staple that has continued to be a popular and delicious beverage option. Put a spin on traditional eggnog with spiced chocolate, peppermint, lime, ice cream, or orange spice flavors to give this traditional beverage a new holiday themed flavor. Serve them up in irish coffee glasses to create a beautiful presentation.
Deck the Halls
Use red, dark green, and white dinner napkins, and green, dark green, white, and red beverage napkins to bring a festive and Christmasy theme to any restaurant! A variety of green, white, and red food and beverage picks are also available to bring some style and function to any dish or cocktail.

Looking for some colorful placemats to set the mood at tables? Use red, dark green, or green solid color placemats to protect tabletops from gravies and cranberry sauces, while giving a fun and festive feel.

Use CiboWares' selection of quality products to make any holiday celebration or dinner a success. Be sure to check out our Christmas party must haves blog post, and find just the right products for your establishment this holiday season.
---
Interested? Shop these categories:
COOKING UTENSILS
Baking Supplies
TABLETOP
Disposable Tableware
Napkins & Bands
Picks And Skewers