---
CiboWares Blog
Blog Categories
---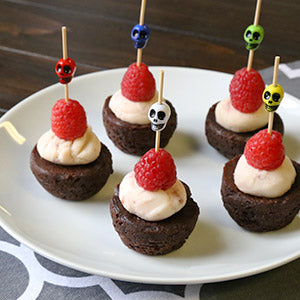 Add Some Spook to Your Restaurant This Halloween!
Halloween is the season of spooky colors, tasty treats, and ghoulish beverages. Have some fun at your establishment this Halloween by adding some Halloween themed dishes and presentation to entertain guests and keep the monsters at bay!
Ghoulish Beverages
Serve up hot chocolate with red food coloring to create a creepy drink, or red sangria, ghoulada, and grape punch to put customers into the spooktacular spirit. 

Looking for a way to spookify cocktails? Use berries or olives to create eyeballs to place in cranberry or blueberry cocktails. Serve them up in our selection of cocktail glasses to create the ultimate creepy beverage.
Horrifying Beverage Accessories
Add some extra Halloween colors and feel to beverages with our selection of beverage napkins, straws, and stirrers.

Beverage napkins are available in black, orange, green, and purple - to name a few. Protect tabletops from leaks and spills from cocktails, and create a spooky beverage presentation.

Use our selection of straws to sip beverages with ease! Jumbo and sip straws are available in black and red, and Giant straws also come in orange, making them perfect for Halloween themed beverages.

Use black plastic ball end stirrers for cocktails, and black or orange beverage plugs and stirrers to add a Halloween feel to coffee and tea. Simple and easy to use, they are a great way to promote a fun and colorful presentation while protecting customers against leaks or spills.
Creepy Treats
No Halloween would be complete without some delicious desserts and treats!

Get creative with bat, witch, ghost, or black cat cupcakes to serve up to young diners, or pumpkin pies, cupcakes, and loaves for adults! Serve up cupcakes with our selection of brown or red tulip cups. Foil pans are a great option to serve up delicious pumpkin loaves or pies. Pie servers are also available to make serving individual slices a snap!

Thinking up ideas for creepy cupcakes? Use black and orange sprinkles, icing, and candy corn or candy bars to create the ultimate fun treat.

Cake pops are another great Halloween dessert idea for both young and adult customers! Skewer cake pops with our selection of quality bamboo and wood skewers and smother pops in caramel, Halloween colored sprinkles, and chocolate for a great sweet treat. They can be placed in glasses of pudding and candy, or served with customer's hot beverages as a fun way to add some color to dish or beverage presentation. Serve up cake pops and pudding with our selection of after dinner glasses to allow customers to see the many layers of creamy and creepy dessert.
The King of Halloween Treats
Of course we couldn't forget about the always popular caramel and candy apples! Use our selection of thick wood skewers to skewer candy and caramel apples with ease, and our selection of food wraps and papers to protect sheet pans from messy candy and caramel residue.
Spooky Presentation
Use our selection of skull picks with creepy cupcakes and finger foods to create the perfect Halloween presentation! They can also be used with upside down cake pops to create an easy and sweet bite. Black, orange, and purple party picks are also available for use with both delicious desserts and beverages to create the perfect Halloween feel.

Set your tables with black and red placemats and dinner napkins for some added fun. Serving up slices of cake or other delicious desserts? Use red devil forks to give any dessert a unique and "devilish" appearance.

Delight young and old with CiboWares' selection of "spooky" and stylish products to create delicious dishes and a fun theme this Halloween!
---
Interested? Shop these categories:
GLASSES
DISPOSABLES
NAPKINS
STIRRERS & STRAWS
PICKS & SKEWERS