---
CiboWares Blog
Blog Categories
---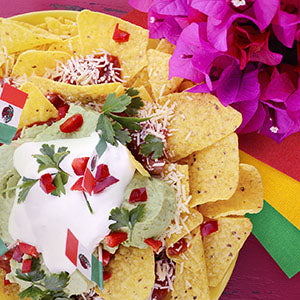 Add Some Excitement to Cinco de Mayo Celebrations!
From tacos and guacamole to colorful decorations, Cinco de Mayo is a great time to introduce some Mexican flavors into your establishment. Use CiboWares' selection of quality products to create the perfect Cinco de Mayo celebration at your establishment, and serve up some delicious specials with ease!


Add Some Colors and Fun
Provide the perfect Cinco de Mayo theme! Use our selection of Mexican flag picks with your delicious entrees, and to garnish your drinks. Our colorful party picks are also ideal for bringing a festive feel to appetizers, beverages, entrees, and delicious desserts!

Use our selection of red, white, and green beverage and dinner napkins to serve up margaritas and enchiladas while preventing leaks and spills on tabletops or counters. No cava sangria would be complete without a colorful straw! Find the right size and color to serve up margaritas or other specialty drinks for Cinco de Mayo with ease.

Looking for quality disposable placemats? Choose from a variety of colored placemats to add some color to place settings and protect surfaces against messy sauces or spills.
Fun and Festive Beverages
No event would be complete without some delicious specialty beverages to top it all off.

Serve up refreshing strawberry margarita spritzers with our selection of cooler glasses to add a fresh and fruity taste to meals. Mango margaritas are another wonderful option and have a thicker consistency. Made from pureed mangoes, they are perfect for use with our selection of cocktail or margarita glasses. Coat glass rims in mint salt to add some extra flavor and texture to fruity mango margaritas.

Still in the mood for margaritas? Spicy, acai, pepper jelly, and classic margaritas are some other great options to serve up on Cinco de Mayo. Add a lime garnish and coat rims to give traditional beverages some added flavor and heat.
The Main Event
<9>Use some of these ideas to create a great Cinco de Mayo specials menu.
Use our selection of
food wraps and papers
with tacos, enchiladas, and chimichangas to allow customers to take messy food items on the go with ease.
Food trays
are also ideal for serving up nachos or chips & guac. Steak, suadero, fried chicken, fajitas, and chicken-mango are all great options for taco menus. 
Nachos are another staple of Cinco de Mayo. Serve up red pepper cheese, guacamole, spicy salsa, and buffalo chicken dips with nachos to give them some added kick and flavor.
Portion cups
will keep dips and sauces separated from the main dish, making them ideal for customers who prefer sauces and dips on the side. Plus, you can easily prepare them in advance so you can be stocked up and ready for the rush.
Sweet Treats
Looking for a sweet and gooey treat? Serve up Mexican chocolate pudding cake with our selection of foil cake pans. Brownies are another wonderful option for dessert. Give brownies some kick with ground red pepper and serve them up on our palm leaf areca cocktail plates to give them an elegant presentation.

Tres leches cake is another classic dessert and is guaranteed to bring some sweetness to any meal! Serve up slices with our selection of eco-friendly tableware to impress guests with a new and fun presentation.

For a nice bite sized treat, serve up Mexican truffles with our selection of picks & skewers to add some crunch, sweetness, and heat to your establishment's dessert selection.

From margaritas to tacos, CiboWares has all the products needed to bring some style and flavor to any establishment. Looking for more products to make your establishment's Cinco de Mayo celebrations a success? Be sure to check out our picks and straws buying guides.
---
Interested? Shop these categories:
Napkins & Accessories
Tabletop
Stirrers & Straws
Tabletop
Eco-friendly