---
CiboWares Blog
Blog Categories
---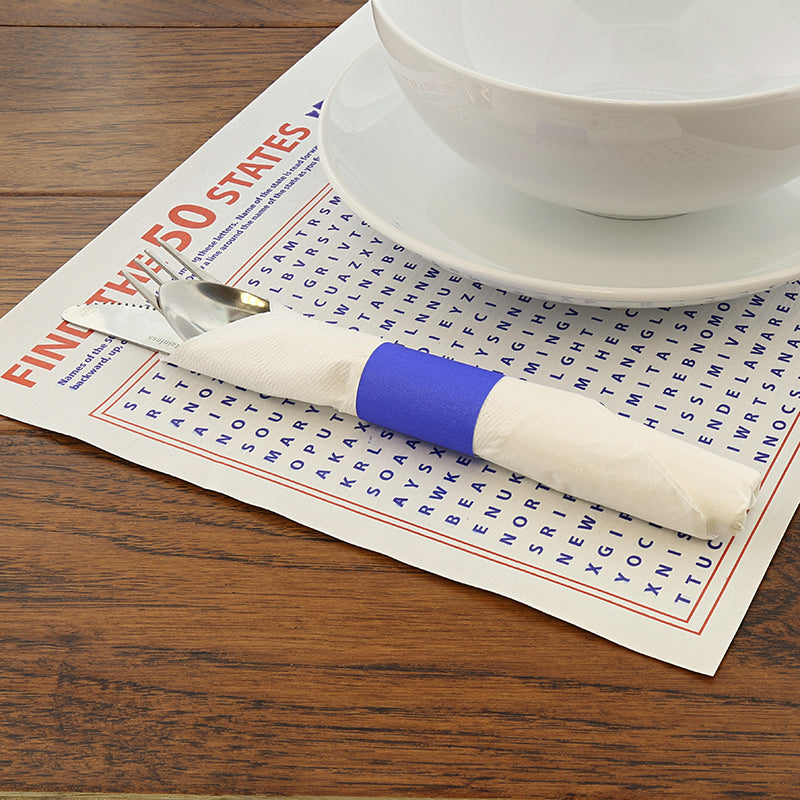 Placemats for Any Foodservice Location
CiboWares has a wide variety of paper placemats and tray liners available to add a bit of style and color to place settings. Designed to protect surfaces from spills or messes, these placemats come in a variety of styles, colors and patterns that are sure to meet the needs of any foodservice location.
Printed Design
Full color and 2-color activity sheets are a must-have for locations that serve young diners. They allow children to color and complete various games on both sides of the placemats and are customizable so they can feature your business' logo and children's menu. Styles such as Animal, Western, Camping and Southwest, Outer Space, Playground, Rock N Roll, Sea Theme, and more are available.
Other printed design placemats are made from the 100% recycled content of cost-effective ground wood paper. They are recyclable and biodegradable and have "color fast" ink to prevent colors from running when wet. They are chlorine Free (PCF or Processed Chlorine Free), and they are available in styles such as Flower design, India design, Chinese Zodiac, Crocodile, Facts About Italy, Florida, Fun and Games, Mexican Fiesta, Spaghetti, and Sports Design. Several of these styles including Sports Design and Spaghetti Design placemats have scalloped or wavy edges to give them some extra style.
Solid Design
CiboWares' selection of beige, black, burgundy, blue, dark green, gold, green, pink, and red placemats are made from ground wood paper, and so they are recyclable and biodegradable.
For a more unique look, use white embossed placemats. Made from bond paper which is manufactured using recyclable pulp, they feature an attractive embossed design.
Stirling white scalloped placemats
are another wonderful alternative. These placemats have scalloped edges and a linen-like embossed texture.
All of our placemats are disposable and can be easily thrown out after service. Durable, they can protect surfaces from condensation and spills and reduce the noise caused by flatware and dishes being moved on tables.
Tray Liners
Line food service trays to make cleaning up spills and crumbs a snap with CiboWares' selection of traymats.
These traymats have stylish scalloped edges and are made from a high quality, durable paper. They are recyclable, biodegradable, and can simply be thrown out after use to reduce time spent cleaning after service.
To learn more about preparing the perfect table setting, be sure to read our "
Presentation is Everything
" blog post.
---
Interested? Shop these categories:
Dining Supplies
Tabletop