---
CiboWares Blog
Blog Categories
---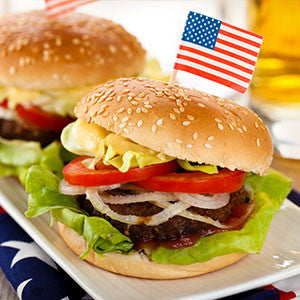 Show Your Patriotism and Add a Little Fun with Flag Picks
When it comes to holidays and special events, food establishments should take their cue and celebrate along. Holidays including Independence Day and Memorial Day are ideal times to show how patriotic your company is with decorations and special menu items. Flag picks are a simple yet effective way to show off your patriotism. Today, we're going to share the many ways flag picks can be used for your beverages and dishes!


American Flags
There's no better way to show off your American spirit than with flags! Patriotism is most apparent for Memorial Day, Independence Day, and Labor Day. Because these holidays fall in the warmer months, you can get creative with your summertime menus. Top off your all-American burgers with a flag pick. If cold lunches are on the menu, our American flag picks work just as well for wraps and sandwiches. Add a patriotic touch to cupcakes or to summer cocktails by sliding fruit slices and other garnishes onto these picks.
Mexican Flags
Whether you run a Mexican-style restaurant or are looking to spruce up your menu for Cinco de Mayo, our Mexican flag picks are sure to get the job done. Serve up chips and salsa with a flag pick for a simple yet fun decoration. Serve small appetizers like flautas with picks so guests can grab them with ease. Just like with summertime drinks, use flag picks to hold fruit slices for margaritas.
Worldwide Events
Our country flags can be used for worldwide events as well, such the World Cup or the Olympics. Not only do these flags help cheer on the nation of your choice, but they offer new opportunities to try out the tips we've listed above. Trust us - when it comes to events like these, your customers will appreciate your dedication!
About Our Flags
All our flag picks are made of splinter-free wood, which reduces concerns for guest safety. Our picks also feature a pointed bottom, making it easy for workers to handle when preparing dishes. While other wooden picks may break or crack, ours are strong enough to go through menu items of all kinds.
Don't forget that our flag picks are just a couple items in our line of
picks and skewers
. From bamboo knot picks to pinwheels, we have picks for every setting and atmosphere. For more information on all our pick products, be sure to read our
Food And Drink Pick Buying Guide
to find the right CiboWares product for you!
---
Interested? Shop these categories:
FLAG PICKS
PICKS & SKEWERS