---
CiboWares Blog
Blog Categories
---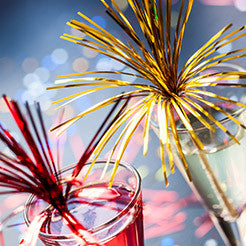 New Year's Eve is one of the most popular nights for going out. It's the last event of the year, and people enjoy counting down to midnight with family and friends. Whether you run a restaurant or bar, all New Year's Eve events require similar preparations and supplies. Of course, getting ready for the night can be stressful, especially if this is your first time hosting a New Year's event. That's why we've put together the following tips on getting New Year's done right!


Understand Your Theme
The traditional New Year's colors are gold and silver. While you can certainly work these colors into your decorations, perhaps you'd like to stick with others that better work with your restaurant or bar. Either way, establishing a definite theme will show guests that you're ready to celebrate the New Year. Luckily, we provide Dinner & beverage napkins and napkin bands in a variety of colors. 


If you aren't planning on incorporating a theme into your New Year's night, it's important to consider hosting other specials or events to keep the crowd excited. Maybe you can hold contests for fun prizes, or bring in a guest DJ. Not only will you be the host to a fun New Year's party, but potentially draw in new customers. 
Preparing the Menu
Depending on the expected New Year's turnout, you might want to consider changing your menu to better accommodate large crowds. Simple finger foods that don't require utensils and large plates might be ideal. Not only will this simplify the after party cleanup, but also reduces accidents caused from people dropping items onto the floor. 


Our selection of picks and skewers includes a variety of styles to best match your event. Choose from the standard club frill picks or wooden sandwich picks for simple food like cheese or small hot dogs or have a little fun with party picks. If you prefer to add a sense of style to your event, you can go with one of our bamboo pick products. 


Preparing the Drinks
New Year's Eve is a special night, and you might decide to include unique cocktails to your drink specials. These cocktails can go along with your theme, or simply separate the event from your typical service. Even if you decide to stick with your standard drink menu, you'll need to make sure you have the glasses, liquor and accessories needed to last the entire night. 


We provide a wide selection of coasters to protect your bar and tabletops from spills and watermarks. Have your bartenders use our straws and stirrers to prepare cocktails and other specialty drinks. If you're looking for an extra splash of fun, serve drinks with our Fireworks straws. 


The Clock Strikes Midnight
Once the New Year is official, you should expect some guests to stay around for at least another hour or two. For bar staffs this shouldn't be a problem, as most regularly close well after midnight. This is a great time to serve simple desserts. Items like tasting cones and serving boats are great for holding chocolates, fruits or mixed foods without worrying about much cleanup.


---
Interested? Shop these categories: