---
CiboWares Blog
Blog Categories
---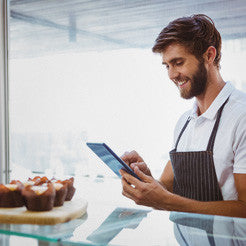 With More Choices, Hospitality Shopping Goes Online
Ask any restaurant, bar, or hotel owner who's been in the business for a few years, and they'll tell you about the days of heading to a restaurant supply store, spending hours shopping for the tools and supplies they needed, loading it all into their vehicle, and getting it back to their business. Then, they'd do it all again a week later.


Those days are gone. From basic supplies like take-out bags to specialty items like bamboo serving boats, business owners throughout the hospitality industry are finding that online shopping for their business is less expensive – and much more convenient – than shopping in traditional brick and mortar stores.


Restaurant owners and managers are able to place online orders from the comfort of their own offices, with their stockrooms mere steps away. That makes it easy to check to see what's needed, and what's already on hand, eliminating purchases that aren't necessary.

And, every business owner knows that one of the most important things they can do for their business is to be present. Being able to stay on site, and eliminate those hours-long shopping trips, means that they're able to handle the day-to-day problems and issues that happen as soon as they arise, and not a moment later.


For business owners who are looking for ways to keep their costs down, online shopping has made it easy for purchasers to keep track of past orders, and keep an accurate record of how much of the business' money is being spent on various supplies. Having this information at your fingertips is invaluable when financial planning, and easy-to-find (and easy-to-print) purchase records will give any business owner an accurate summary of what they've spent the previous year, and what they can expect to spend in the upcoming year on supplies.


Those same tracking orders also make it easy to plan supply purchases so you never run out of what you need.Many purchasers make it a point to place their orders on the same day each month, with the knowledge of how much product they'll need to have on hand based on their previous purchases.


And, finding information about what you're purchasing has never been easier. With product specs that include size, measurements, materials, and use ideas, online shopping makes it easy to buy the right item the first time, and every time.


Online shopping is also the best way to save money on everyday purchases. With low shipping costs (or better yet, free shipping offers, it's cost effective for large orders, and small orders alike.


Find an online supplier you trust, and start saving time and money.