---
CiboWares Blog
Blog Categories
---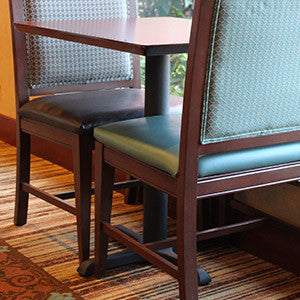 Is Your Table Feeling a Little Tipsy?
Though you hope customers will remember the great experience they had at your food establishment, they're more likely to remember bad ones. Missteps ranging from inattentive waiters to wobbly furniture can tarnish the impression customers have on your establishment. Fortunately, wobbly tables and chairs can be easily addressed with the right supplies. Our wobble wedges, made from flexible vinyl, offer the versatility needed to fit between gaps big and small. Keep on reading to learn more about the dangers of uneven furniture and the importance of keeping wobble wedges in your supply closet.

Dangers of Uneven Furniture
Though they may seem obvious, the dangers of uneven tables and chairs can lead to horrible customer experiences. If a customer sits down at an uneven table in a coffee shop, for instance, the wobbling could lead to hot beverage spills. Not only can these spills burn customers, but they also create messes that employees have to clean up. If you're running a restaurant, wobbly tables put guests at risk when servers place down soups or other liquid-based food.

Spills aside, let's not forget that uneven chairs and tables are just annoying. They create a poor experience for the customer, thus hurting the chances that they'll return in the future. While some may view wobbly furniture as a minor inconvenience, remember that customers are more likely to share bad experiences.

Safety at Your Establishment
While we've discussed the importance of food safety (e.g. cross-contamination) in previous posts, there's another element to customer safety that needs discussing: creating a safe environment for your customers. Guarding against uneven furniture is only one step in achieving this goal. Walkways within and outside your establishment need to be clear of debris and equipment. In cases of bad weather, entrances and sidewalks need to be clear of ice and snow. Fire alarm, sprinkler and security systems need to be checked on a regular basis.

Employee training is also essential to maintaining a safe establishment. Ensure that you walk employees through your safety plan in the event of an emergency such as a fire. First Aid training is always a good idea, as waiters and hostesses can address customer accidents without having to rely on a select few workers.


More About Our Wobble Wedges
Available in cases of 30 and 360, our wobble wedges are the best solution for addressing wobbly furniture and to make rearranging a breeze. Their black vinyl material creates a non-slip grip on any surface, thus eliminating horrible noises and floor scratches that result when rearranging furniture. Our wobble wedges can also be cut with scissors or knives to fit underneath uneven chairs and tables. In other words, these products are a simple solution to several issues that can plague your establishment.

Wobble wedges are just one example of the products CiboWares provide for food establishments of all kinds. From staff gear to cleaning supplies, we're your one-stop shop for everything you need to keep your establishment safe and running smoothly.
---
Interested? Shop these categories: