---
CiboWares Blog
Blog Categories
---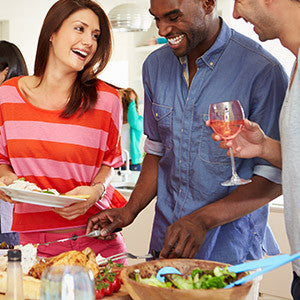 Building Community Through Food
There's nothing that brings a community together like food. These are some easy and fun ways to reconnect with your family, get to know your neighbors, and make new friends while spreading your culinary wings.

Neighborhood Soup Nights 
Neighborhood soup nights are a great way to bring families in your neighborhood together for an easy, fun event. Typically held once a month, each family in a neighborhood takes turns hosting the event and is in charge of making two large pots of soup. On soup night people have to show up with their own bowls and spoons, ensuring that no one is stuck with a mountain of dishes. Everyone else brings different food items such as: bread, salad, wine, cookies, or brownies to round out the meal and make it super easy for everyone to participate.

Healthy Cooking Classes
If you're a parent, invite your children's friends (and their parents too!) over for a casual cooking class. Lead by example, and share instructions on making a simple, healthy dish – like whole wheat pizza with vegetable toppings. The kids will love learning how to safely chop veggies and learn that cooking is a fun, collaborative event.

Food Swaps
Take home cooking to a whole new level by hosting a neighborhood food swap. A food swap is where any number of people come together and swap homemade food. The food can be anything; jars of pickles, homemade wine, jellies, jams, or cookies. People have brought homemade dumplings, fresh pasta, vegetables from their gardens, and even eggs from their chickens.

Each item has to be individually packaged, and you can bring as many as you want. Most of the time, people bring about 10 to 15 different items. Food swaps are a great way for neighborhoods to come together, and allow everyone to showcase their cooking skills. One good way to make it more service-oriented is to have everyone who participates bring a canned good or non-perishable food item to donate to the local food pantry. This way, participants can enjoy spending some time in the kitchen while helping out their community at the same time.

Progressive Dinner Party
Progressive dinner parties were really popular in the 1960s, and they're coming back. A progressive dinner party is where each course of a dinner is prepared by a different host. This works best when you're working with a group of people who live close to each other and is a wonderful way to get to know your next door neighbors! Typically, this is the smallest group with only three or four stops but it can be as many as you want.

How a progressive dinner party works is just how it sounds – the dinner progresses from one course to another from place to place. Normally, you'll start at one house or apartment for cocktails, hors d'oeuvres, or appetizers. Then, you'll move onto another house for the main course (this is always the most time-consuming and difficult course, so make sure that you take turns on who hosts it), and finally, you visit the last house for dessert.

You can add as many different stops as you'd like, such as a salad course or after-dinner drinks. The nice thing about progressive dinner parties is that everyone takes part and only has to do a little bit of work to enjoy a full meal.

Use these simple ideas to help build your own community, or apply them to your food establishment or business to host fun and inspired events.